Ascora lets you maintain the Equipment or Assets your Customers have that you wish to service. You can view the complete Equipment list for all Customers or just for a particular site and set up recurring jobs as either automatic or suggestions depending upon your operational needs.
Getting Set Up
We have a friendly Excel template that you can download to quickly enter, edit and import the Equipment for your Customers and their Sites. This data contains the key details such as Equipment Type and the first service for the Equipment in Ascora.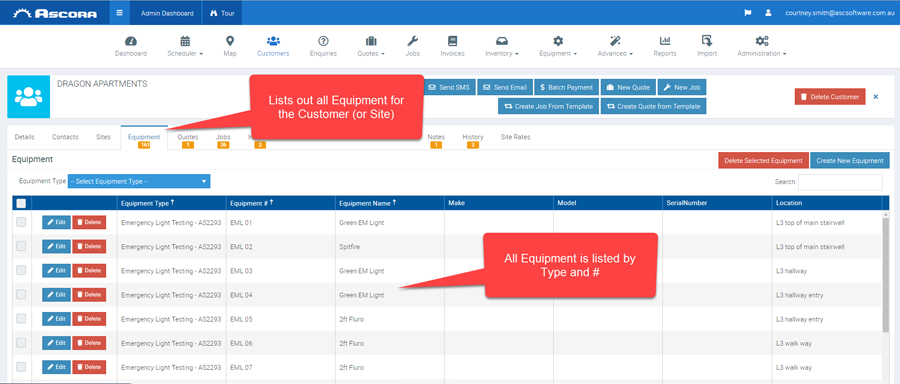 Equipment Types
Equipment Types in Ascora dictate the intervals on which a piece of Equipment may be serviced. You can also setup a single frequency or multiple intervals, for example 3, 6 and 12 month servicing, depending upon your needs.

Created Automatically or on Demand
Depending upon your scenario you may want Ascora to create the service jobs automatically in advance. These jobs can then be scheduled as necessary based on the expected date of the service. Alternatively you can also use the Maintenance Planner in Ascora to check what scheduled Maintenance should be occurring next month and then create the Jobs only as needed.

Equipment History
Each piece of Equipment in Ascora allows you to store various documents or photos. Additionally you can also see each time that Equipment has been serviced – both on the webs and on the apps.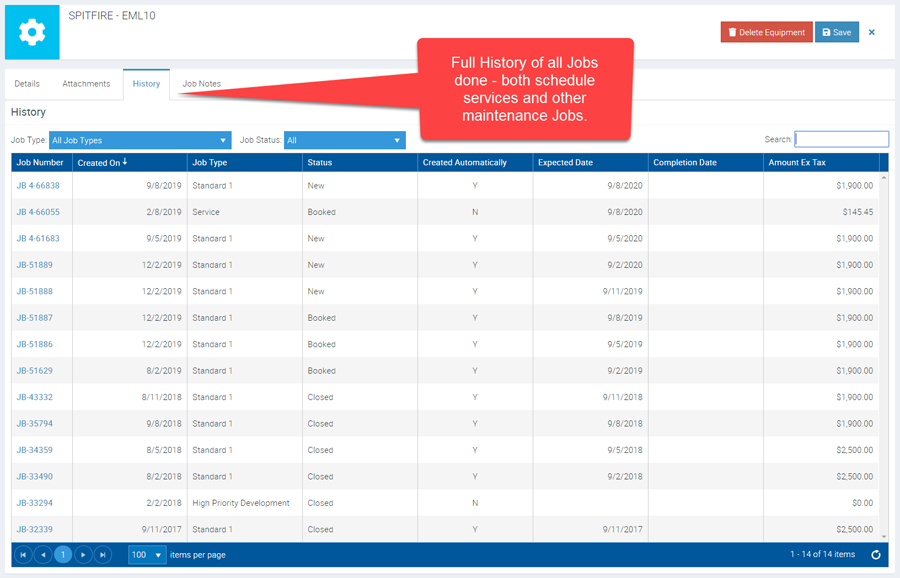 Note: from the apps only a limited history can initially be downloaded. For a particular Customer you can select to download their history which will pull down the complete service history for all of their Equipment.
Equipment Register / Defect Register
You can record pass/fail against the Equipment (both on the mobile and on the web). This then allows you to generate an Equipment Register or Defect Register with just the items that failed testing. Like all Documents in Ascora these can be fully templated too!

Tip: Servicing Equipment for a Customer based on the Customers timeframe rather than the Equipment itself? Don't forget you can create a Recurring Job and link in all of the Customer's Equipment to be serviced. In this way it is the Customer controlling the recurring jobs rather than the Equipment!