Scheduling
The scheduler allows jobs to be created and scheduled. Tradesmen can easily view which jobs are assigned to each employee and adjust them as required. Schedulers can simply drag existing jobs from the job list onto the timeline, then position and adjust the duration. Jobs can be scheduled multiple times if they require multiple days to complete.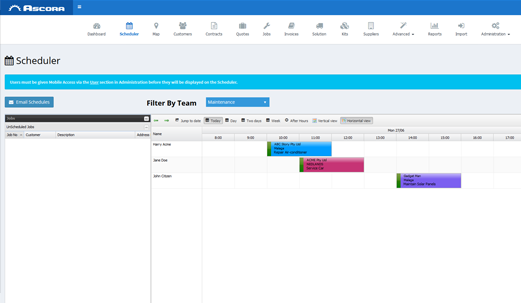 Jobs
Easily view a full list of jobs scheduled for today, tomorrow, this week and next week. The job time, date, address and job number can be quickly viewed from the jobs screen, saving time and effort. Phone numbers are displayed on each job allowing quick access to the site contact.
View Job History
Older jobs can be viewed using the past jobs filter, jobs that were booked before the current date will appear in the list. Any jobs that are too old will be archived which reduces clutter and demand on resources.
Add Attachments
Take new photos of the job site then attach it to the job, quote or invoice. Existing images can also be attached.
Easily Convert Jobs to Quotes and Invoices
Jobs can be converted directly into quotes and invoices. Quotes can also be converted into New Jobs.
Quotes
Quotes can be created directly on the quote screen or by generating follow-on Quotes from a Job. After adding supplies and labour to a quote it can be sent to the customer for approval. After receiving customer approval the Quote can then be simply converted to a new Job.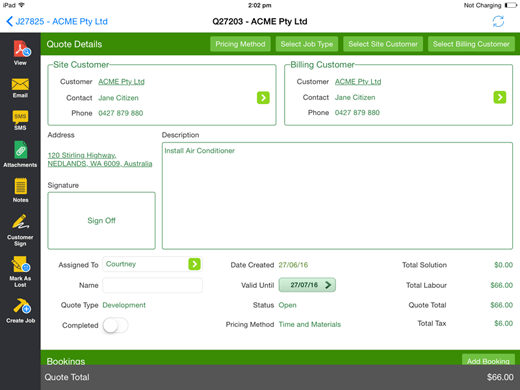 View Quotes as a PDF
When a quote is viewed its converted into a PDF which shows all the details required by the client.
Print Quotes & Email Quotes
When the quote is viewed the user has the option of printing the PDF. The Print option takes advantage of airprint capable printers.
Easily email any quote with the press of a button. Any attachments the quote has will be sent with the email
Credit Card Payments
No Need for expensive hardware
Take Credit Card payment directly on site from your iPhone, iPad or Android device
Invoicing
With only one tap turn your Job into an Invoice while out in the field. Once an invoice is complete it can be signed by the technician and payments can be made by the customer. Various payment options are available to the customer such as paying by cash or card.
Collect Signatures
Collect signatures directly on an iPhone, iPad or Android device and record it on the invoice.
Immediate Invoicing
With only one tap turn your Job into an Invoice while out in the field. Easily view the invoice as a PDF complete with company logo and detailed totals.
Email Invoices
Easily email any invoice with the press of a button. Any attachments the invoice has will be sent with the email.
Reports
With the use of detailed graphs we can easily view the type of jobs completed by each technician. Each graph is divided into coloured segments, which makes it easier to visualize the statistics. The start and end dates can be adjusted to focus on a longer or shorter duration.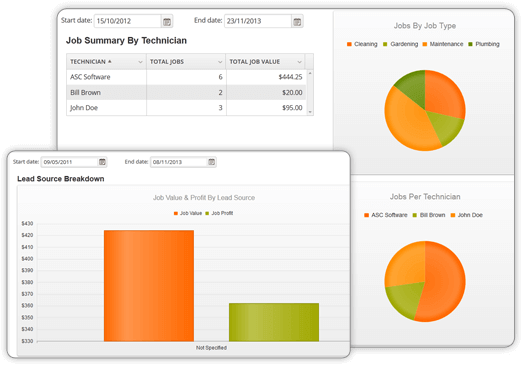 Want to See More?
Watch the Ascora Video Series