Job Feedback and Reviews
The Collection of Feedback or reviews on Jobs is an important improvement loop and another metric you can use to assess how the technicians on the team are performing. This is inbuilt directly into Ascora making the process even easier. You don't need to worry about multiple systems to start collecting this fundamental Job feedback and data. You also have a choice of how this information is collected in Ascora – via email or SMS – and the request can be set to be sent out automatically or on a Job-by-Job basis manually.
Completing a Job in Ascora Automatically Triggers an SMS or Email
In Ascora this is handled through the Automatic Follow Ups – this means you can elect to have the feedback survey sent out only for particular customer types. Setup in this way in Ascora this will happen seamlessly as part of your normal job process flow. If desired you can also send out a feedback link manually via a Job-based email template. You can setup Ascora to automatically email you when any feedback is received.
Job Feedback Reporting
All Feedback collected by Ascora is also available directly in the Ascora reports. This enables you to analyse the feedback over time or technician and also drill directly into the related Job or Customer in Ascora.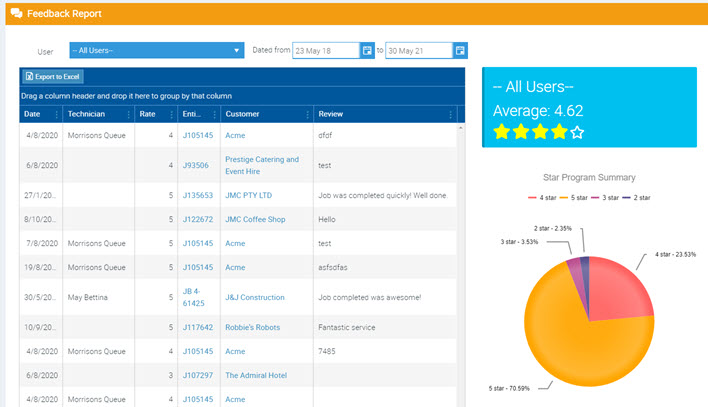 Quotation, Job and Invoice Automations
Don't forget that Ascora also natively has automations to send out SMS or emails throughout the Quote, Job and Invoice flows. Any responses to the emails will be returned to your inbox, while SMS replies will be logged directly against the Quote, Job or Invoice as well as being forwarded on via email or SMS.
This is another example of Ascora providing a complete end-to-end platform for your business. Everything is available to you as part of the Ascora platform, to take your business to the next level.