Ever wanted to be able to send a Booking Confirmation directly to your Customer after placing a booking on the Ascora Scheduler? With the latest update of Ascora now you can! And it applies to both your Quotes and Jobs!
Define your Template
Under Administration à Booking Confirmation you'll be able to craft your message to be sent. Select from any of the key fields that relate to your booking and these will automatically be populated when your message is sent. Don't forget to include your company name so your Customer will know who the message is from.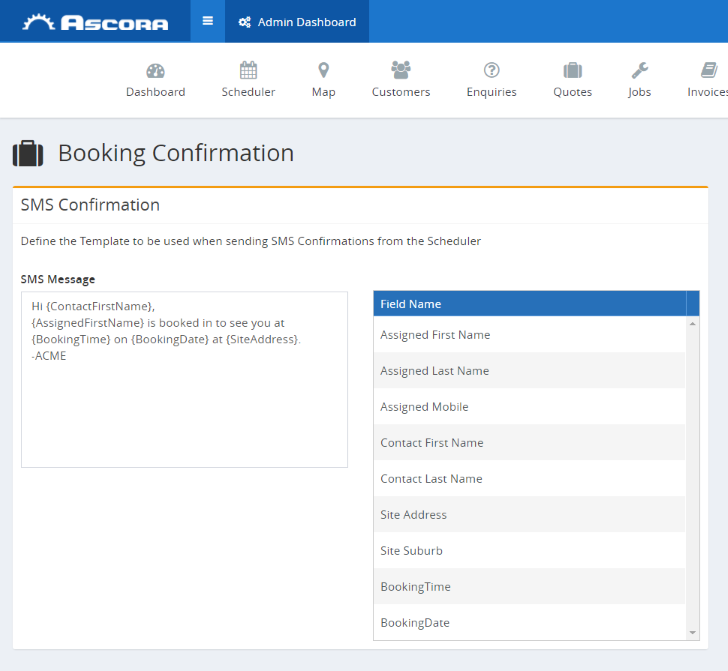 Book in your Quote/Job
Simply drag and drop or create a new Booking on the Ascora Scheduler. Once your Job or Quote is booked in, simply right-click the Booking and select Booking Confirmation SMS (If you don't see this option please press the refresh button in your browser). The SMS will be created based on your template and sent straight away! If you have a Site Contact on the Job/Quote with a mobile number, they will receive the SMS, otherwise Ascora will send to the Mobile Number of the Site Customer.
Note: Don't forget Ascora offers 2-way SMS – simply set your SMS reply number and any replies will be routed to your set email address or mobile number! (Replies will also be stored in the Quote or Job history too!)

We hope you like this latest update from Ascora!