2021 – what a year it was! It's always important to look back over the year just gone and see what's been achieved.
Here's the summary of what the Ascora team delivered in 2021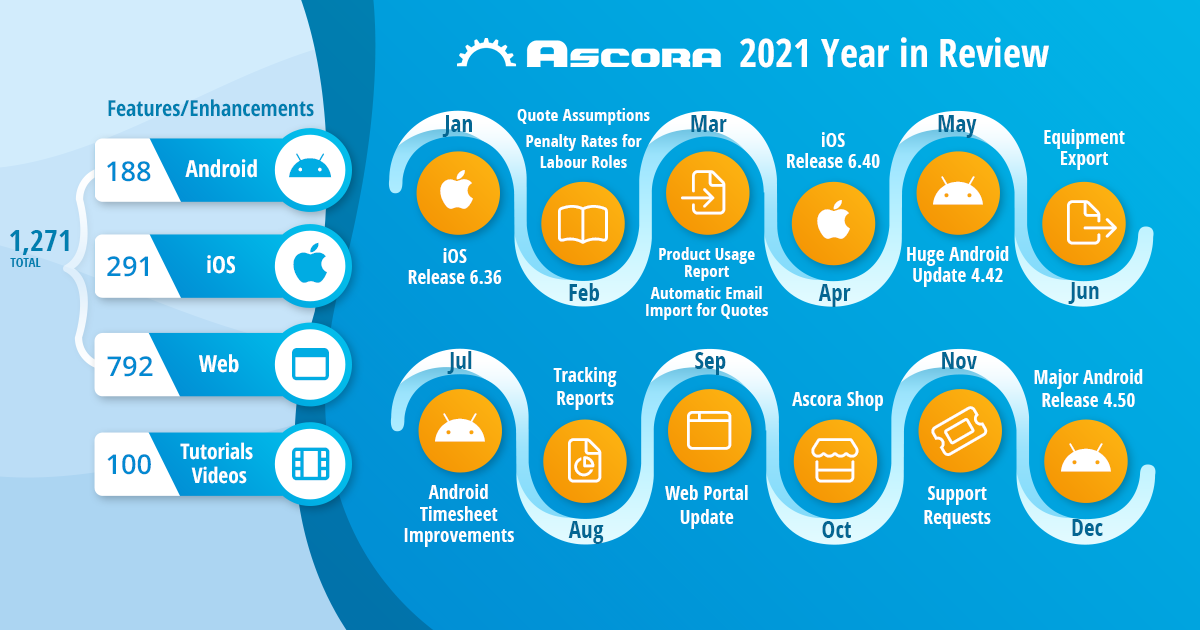 Penalty Rates – Introduction of automatic selection of overtime Labour Roles based on Timesheet Rules.
Product Usage Reports – Enables you to view which Products are being used on Jobs.
Equipment Export Improvements – Addition of all Custom Fields to the exports as well as additional Customer and Equipment Data.
Tracking Reports – Additional reports for the Ascora GPS platform.
Ascora Shop - An easy integrated way for Clients to buy GPS, Templates and Supplier Invoice formats directly from Ascora.
Support Requests – A custom support system built directly into Ascora.
Android + iOS Updates – Literally hundreds of enhancements and new features across the mobile platforms.
Each feature or enhancement delivered is another step forward in our mission of providing a complete end-to-end platform for trades and services businesses. A platform where there is a level of depth to configure Ascora to your business workflows. Each feature we deliver is to enable you to achieve your business goals – whether that's scaling and growing, gaining visibility on your business, spending more quality time with family or all of the above.
As we turn toward 2022 the Ascora team look forward to delivering more! If you're looking for a job management system that will keep pace with your business and you won't outgrow, then look no further than Ascora.